SELECT A COURSE LOCATION
Success Prep's new comprehensive LSAT Prep class in Atlanta provides the sort of thorough, hands-on training that ensures that even the most exam-phobic law school applicants have the essential tools to excel on the LSAT Exam! Our average LSAT score improvement is 7 points!
The Success Prep LSAT Prep class offers many advantages over other LSAT preparation options. Our proven "Logic from the Ground Up" method starts from the very fundamental building blocks of logic and connects them to the structures underlying every LSAT question. Success Prep's LSAT course gives students the tools to tackle the widest range of LSAT questions. Because we emphasize the fundamentals, we provide our students with the skill sets to confidently tackle the challenging questions as well as avoid preventable errors as they move quickly through the less difficult ones. The Success Prep LSAT Prep class provides students with the logic-based fundamentals needed to excel on this very challenging exam, and by so doing, helps to develop a more competent law student and better lawyer down the road!
COURSE OUTLINE
LSAT PREP CLASS: 10 SESSIONS (3hrs Each)
SESSION 1
Introducing the LSAT
Test Hygiene
Logic Games: Ordering & Grouping
Symbols and Shorthand for Logic Games
SESSION 2
LSAT Formal Logic
Logical Reasoning Question Types
Logic Games: ifs and Acceptability
SESSION 3
Logical Reasoning: Necessary Assumption Questions
Reading Reasoning Comprehension: Information Organization
Logic Games: The Three Kinds of Grouping Games
SESSION 4
Logical Reasoning: Inference Questions
Logic Games: Ordering – Chains and Slots
Reading Comprehension: Section and Passage Management
SESSION 5
Logical Reasoning: Other Assumption Family Questions
Logic Games: Formal Logic in Logic Games
Reading Comprehension: Comparative Reading
SESSION 6
Logic Games: Splitting the Logic Games Sketch
Logic Games: Rare Game Types: Mapping
Logical Reasoning: Structure Family Questions
SESSION 7
Logic Game: Loosened Restrictions
Reading Comprehension: "Hard" Science Passages
Logical Reasoning: Matching and Explaining
SESSION 8
Logical Reasoning: Parallel Reasoning & Point of Disagreement
The Writing Sample
Logic Games: Rare Question Types
Logic Games: Rare Game Types: Process
SESSION 9
Logic Games: Common Hybrids
Logical Reasoning: Flaw Questions
Logical Reasoning in Reading Comprehension
SESSION 10
June, 2007 PrepTest Review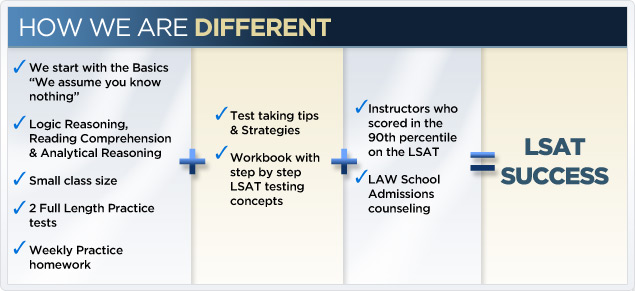 LSAT TESTIMONIALS
______________________________________